The team at the Koppers Australia - Newcastle Plant recently approached us with a tricky challenge. They advised they have a need to load and unload ships with products that are quite difficult to deal with without damaging the ship loading hoses and spilling product.
TAR
Koppers need to transfer crude coal tar from ship to plant via a pump on the ship side and through their CBF pipeline:
Approximately 40 to 50 OC (design 60OC)
Normal 250 to 300Tonnes/hour
Design 350 Tonnes/hour
CARBON BLACK FEEDSTOCK OIL
Carbon black feedstock oil (CBF) is loaded from plant to ship via a pump on shore side through their CBF pipeline.
Approximately 80 OC (design 100OC)
Normal 315 to 350Tonnes/hour
Max. 440 Tonnes/hour
Design 450 Tonnes/hour
PITCH
Coal Tar Soft Pitch and Pitch is unloaded from ship to the plant through their Soft Pitch pipeline via a pump on ship side.
Approximately 200 to 210 OC (design temperature 250OC).
Normal: 240 Tonnes/hour
Max. 320 Tonnes/hour
Design 350 tonnes/hour
The big difficulty with these products is that they will solidify before cooling to ambient temperature and converting to a brittle 'glass-like' solid.
Our team assessed the requirements and specifications, and recommended ARTA NTS-SZ cable activated marine emergency break-aways to prevent damage to ship loading hoses and is intended to separate the hoses from ship with no product lost, making for safer handling and prevention of environmental contamination.
Koppers were very pleased with the solution the Treloar team provided and have taken delivery of the new parts. Check out the ARTA break-aways we supplied in the images below.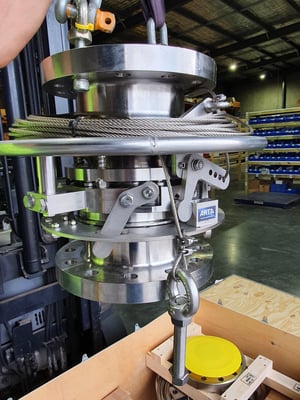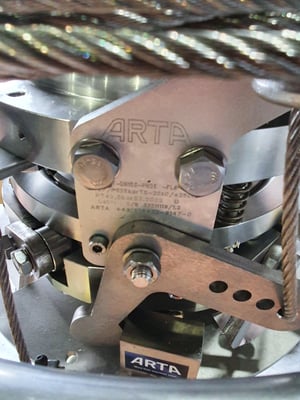 Stay tuned for updates on how Koppers found the solution our team provided. You can also talk to us about any tricky substances you need to transfer. Contact us here to discuss your system and requirements.