In continuation of our progress update from April 2022 on the initial case study regarding our project with Wesfarmers – CSBP, we now have the final update on how the project was completed.
In December 2021, Wesfarmers - CSBP approached Treloar for spare emergency breakaways, and our discussion led to the need for new loading arms featuring more modern Treloar Swivel Joints, to avoid leakage and ensure easy maneuvering.
The project progressed and in April 2022 we completed the fabrication and successful testing of the loading arms, with the client and our team exceedingly happy with the results.
In September, we completed the successful assembly, testing, and deployment of the new loading arms and the client is happy with the outcome. The previous arms the client had installed from a different supplier were leaking and they were hard to maneuver due to the failure of the balance mechanism. We addressed the issues and fabricated new loading arms to meet their requirements.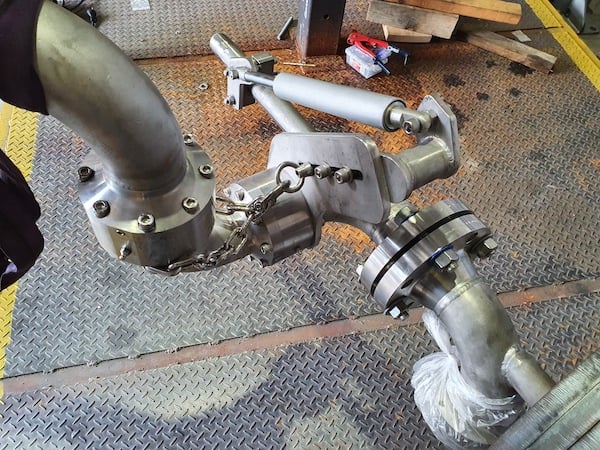 However, before we could deliver the final product to the customer, we wanted to make sure it was thoroughly tested for peak performance after assembly.
As a standard procedure for all our projects, we undertook the Factory Acceptance Testing (FAT) in our workshop and ensured everything worked correctly before it was shipped to Wesfarmers - CSBP. The process involved balancing the arm so that it operated effectively, reached the connection points and was ergonomic and easy to use for the operator. This is key as the crucial functionality of the loading arm is to prevent injury to the operator from moving around heavy hoses.
From a safety perspective, we needed to ensure all of the seals were working and there were no leaks into the atmosphere given the new loading arms will be handling toxic, flammable ammonia gas and any leakage can be disastrous.
We made sure the balancing was correct and were satisfied with the results of the FAT tests, delivering the loading arms to the customer. Wesfarmers CSBP installed the loading arms and Treloar's Engineering Manager paid a visit to offer commissioning support and ensure everything worked as they wanted, and if there were any issues on-site they were addressed immediately.
The only issue encountered was the weight of the valve the client advised to be on the end of the arm was a lot higher than it actually was. We figured out the gas strut was too stiff and therefore sent them a retrofit replacement and the right balance was achieved.
With the new arms installed and fully functional, the client is very pleased with the outcome due to them being light, ergonomic, easy to move, and safe.
Our team will follow up with the client at 1, 3, and 5 years intervals to ensure everything is working efficiently. With regular maintenance, the arms are expected to serve for at least a few decades.
Overall, the project was a success and was executed with a positive outcome for both the client and the Treloar team.